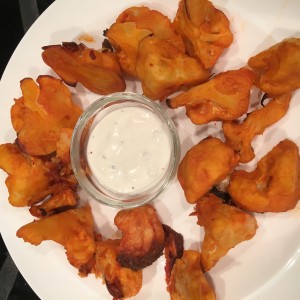 Buffalo Cauliflower "Wings"
2016-03-20 23:03:38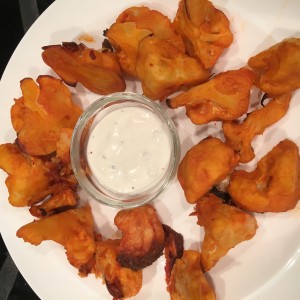 Nutrition Facts
Amount Per Serving
* Percent Daily Values are based on a 2,000 calorie diet. Your Daily Values may be higher or lower depending on your calorie needs.
Ingredients
1 head cauliflower, chopped into wing size bites
1/2 cup flour
1/2 cup water
1 teaspoon garlic powder
1/2 teaspoon salt
Wing sauce (we used Frank's)
Blue cheese dressing
Instructions
1. Preheat your oven to 450°.
2. Grease a cookie sheet or cover with foil and grease.
3. Mix your flour, water, garlic powder and salt.
4. Dredge your cauliflower in the mixture and place on the cookie sheet.
5. Bake for about 15 minutes, flipping cauliflower halfway through.
6. Remove from oven, toss with wing sauce and return to oven. Bake for 20 more minutes or until crispy. Serve with blue cheese dressing for dipping.
Flavorful Life http://flavorful.life/