We are in the middle of "Macaroni Free March." Everyday, my almost five year old would ask for mac n cheese and probably about half of the time we'd make it for him from a box from Whole Foods – something I swore I'd never do! To get out of this rut, we declared March to be macaroni free! We couldn't cut him off cold turkey, so we are now making healthy macaroni using cashew "cheese sauce" and pasta mixed with riced cauliflower. He loves it, although he says on April 1 he'd like some boxed mac n cheese.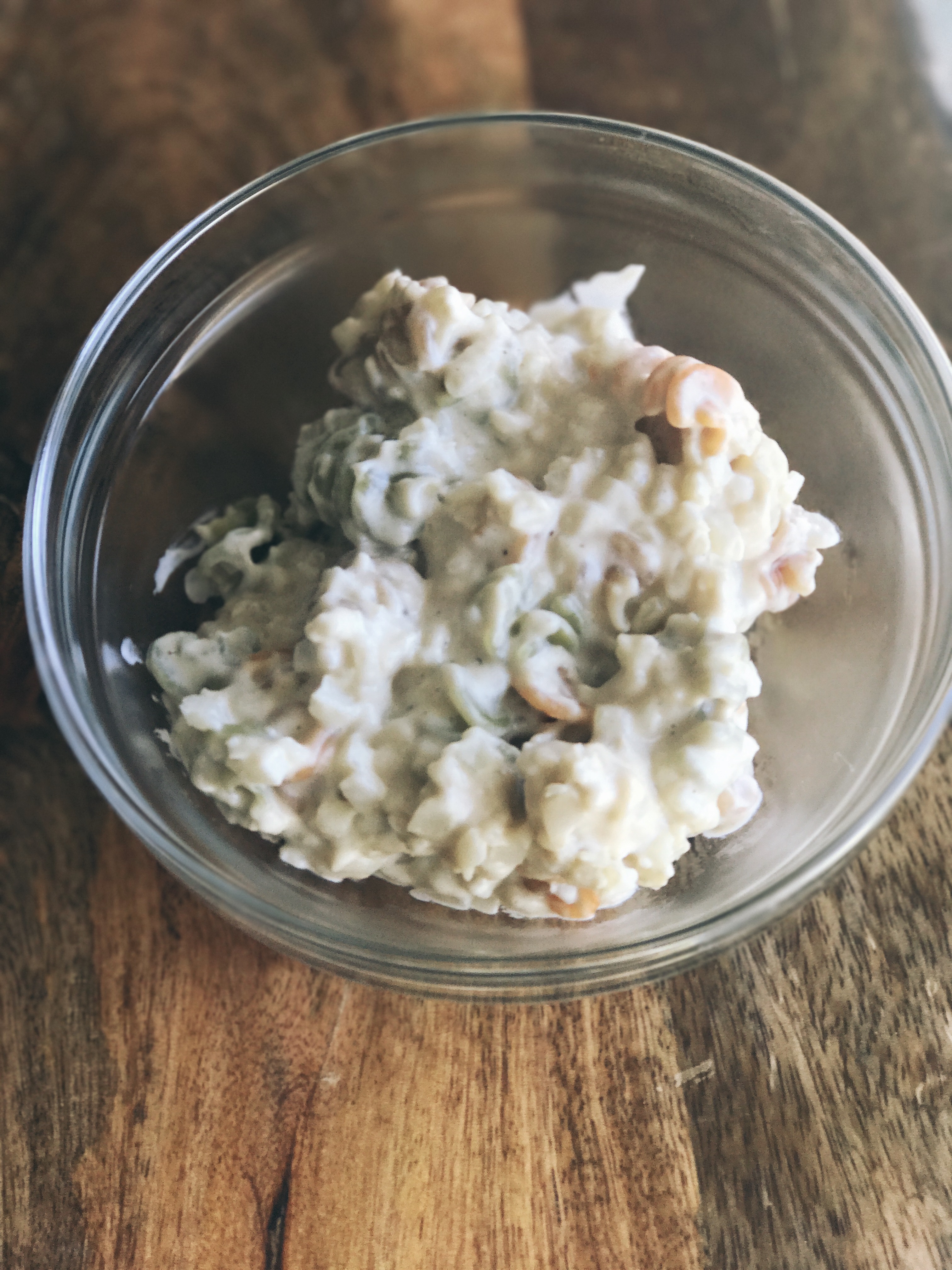 Vegan Mac N Cheese
2017-03-15 15:52:26
Nutrition Facts
Amount Per Serving
* Percent Daily Values are based on a 2,000 calorie diet. Your Daily Values may be higher or lower depending on your calorie needs.
Ingredients
2 cups raw cashews
1 1/4 cup vegetable broth
1 clove garlic, peeled
1 tablespoon nutritional yeast
1/2 teaspoon salt
Nutmeg, to taste - I use a couple big shakes
Pasta of choice, it's enough sauce for a pound of pasta - I use 1/4 lb pasta and a bag of riced cauliflower from Trader Joe's.
Instructions
Bring pasta water to boil with a pinch of salt. Cook according to package instructions. We've been using "healthier" pasta and adding a ton of riced cauliflower for the last 2 minutes of boiling the pasta. Drain the pasta and cauliflower.
Cashew Cheese Sauce
If you don't have a high speed blender, soak your cashews for a couple hours, then drain and rinse. I just combine all ingredients (except for the cauliflower and pasta) in my Vitamix and blend for about 3 minutes or until smooth and creamy. Thin out if necessary with more broth or some water. Add additional salt or nutmeg to taste.
Notes
I read that it's better to saute your cauliflower rice but who has time for that. If rice consistency is important to you, you could saute the cauliflower in 1 teaspoon of oil. The way I do it (boil), you (and my 4 year old) hardly notice the cauliflower.
Flavorful Life http://flavorful.life/