This meal is a long time favorite of ours; even our 4 year-old enjoys it. It's been modified from a photocopied recipe shared in a Weight Watchers meeting and a quick google search shows it's not to be found anywhere online, so I'm glad to be able to share my version with you.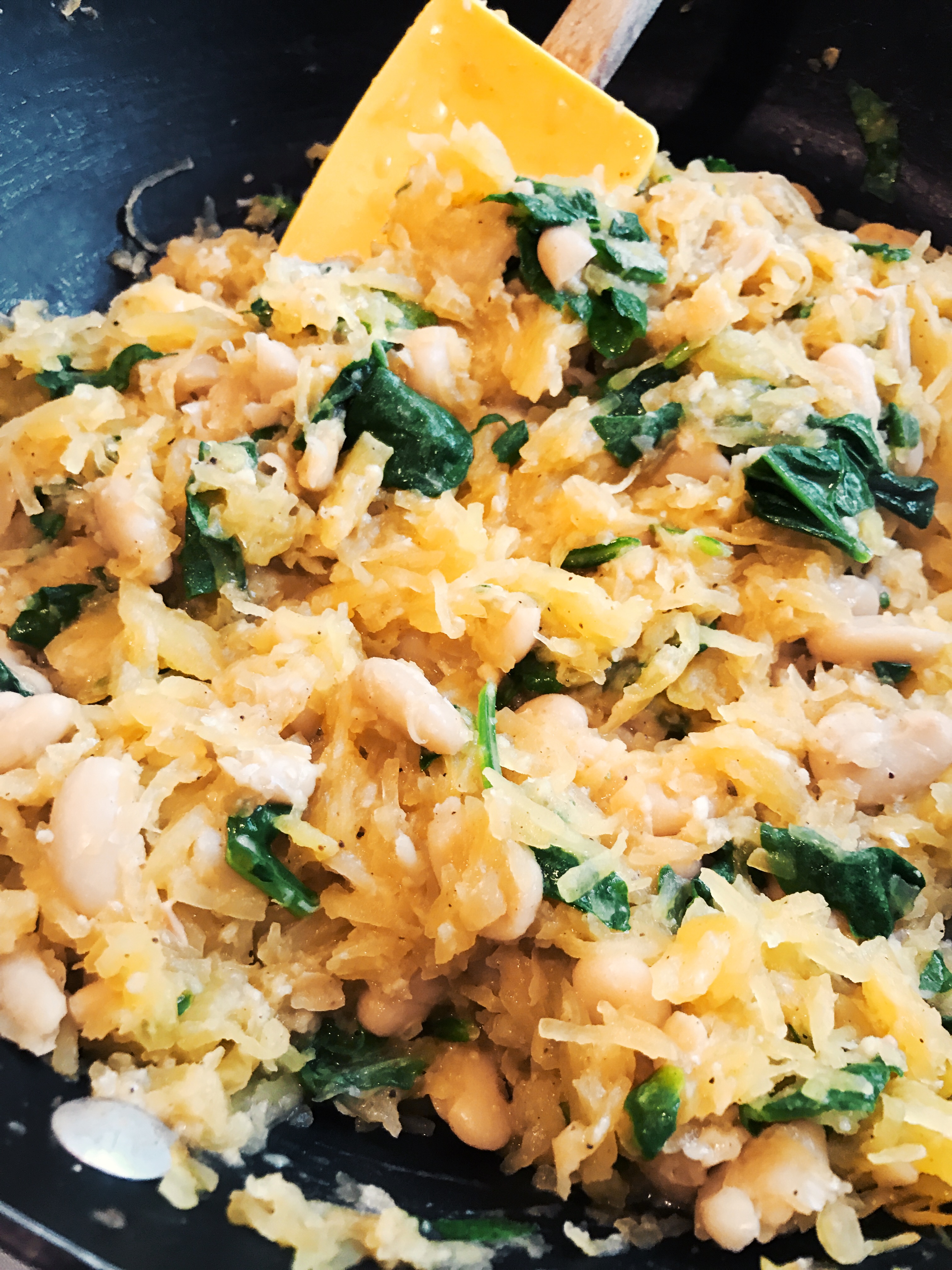 Parmesan Spaghetti Squash with White Beans and Spinach
2016-10-20 12:13:44
Nutrition Facts
Amount Per Serving
* Percent Daily Values are based on a 2,000 calorie diet. Your Daily Values may be higher or lower depending on your calorie needs.
Ingredients
1 (3 pound or more) spaghetti squash
1 tablespoon olive oil
6 garlic cloves, sliced thin *see notes below
1 15 ounce can of white beans, rinsed and drained
Spinach - about half a bag or more, chopped
1/2 cup broth, chicken or vegetable
1/2 teaspoon nutmeg
1/2 teaspoon salt
1/2 teaspoon white pepper (black pepper is a fine substitute)
1/2 teaspoon crushed red pepper flakes (optional but awesome, depending on spice tolerance)
1/2 cup grated parmesan cheese
Instructions
Half your spaghetti squash and remove seeds. Poke holes in it. Place on a large plate with the bottom covered in water and microwave on high for about 10 minutes or until squash is tender. Let cool then remove the "spaghetti" with a fork.
While squash cooks and cools, add your garlic to a pan with the olive oil. Heat until fragrant. Add the beans, nutmeg, salt, red pepper (I actually hold on adding the red pepper until the end so I can pull some out for my son without the kick) and pepper. Add the broth. Mash a few of the beans (about 1/4 of them) to make the dish more creamy. Add the chopped spinach and stir until it wilts. Stir in the spaghetti squash. Add the parmesan cheese, reserving a pinch for a garnish. Also garnish with the crushed red pepper if you didn't add it with the rest of the spices because you are cooking for kiddos like me.
Notes
If I'm making this for my 4 year-old, I mince the garlic instead of thinly slicing. It still has that nice garlic flavor but doesn't offend his more delicate tastebuds with whole pieces of garlic.
Flavorful Life http://flavorful.life/