We had 12 tomato plants this year and the yield was better than we ever expected. I haven't had time to blog lately because I've been too busy processing tomatoes! Below is our roasted tomato recipe – roasting the tomatoes, peppers, garlic and onion gives this salsa a wonderful flavor and you don't have to deal with that "onion" breath fresh salsa can sometimes cause.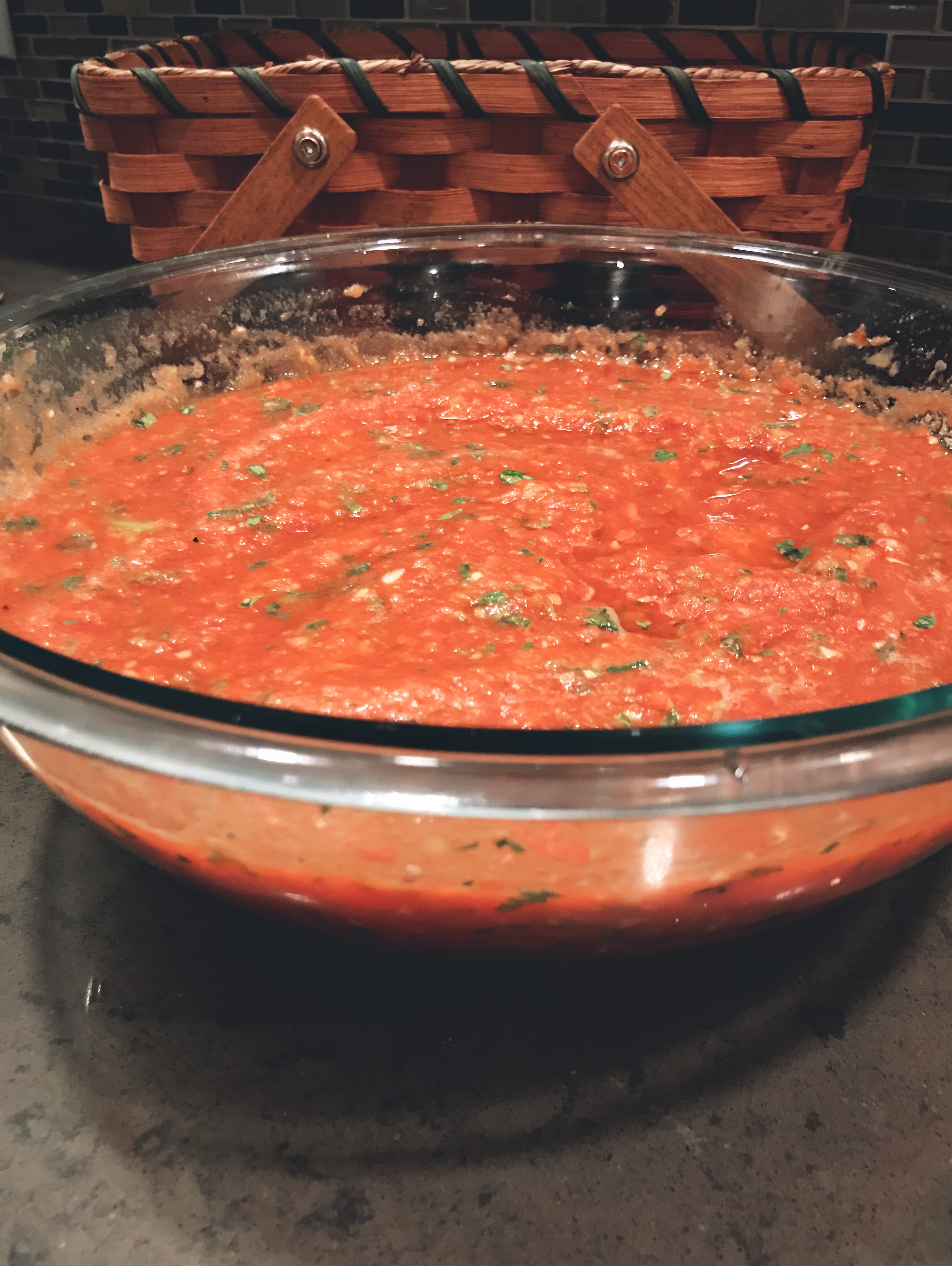 Roasted Salsa
2016-10-20 11:25:17
Nutrition Facts
Amount Per Serving
* Percent Daily Values are based on a 2,000 calorie diet. Your Daily Values may be higher or lower depending on your calorie needs.
Ingredients
Tomatoes, ratios below are for a large cookie sheet full of tomatoes - we grow Brandywine, Hillbilly and San Marzano and I use a combo of the three
1 large white onion or 2-3 small
2 large jalapeños
8 peeled garlic cloves
Handful of cilantro
1/2 teaspoon salt
1/4 of a lime
Instructions
Preheat oven to 550°F (or use convection broil). Place your clean tomatoes and the peeled garlic on the cookie sheet. Roast for about 10 minutes, until skin is cracking and starting to char. Watch it closely - it will burn (you will pull off any blackened skin, so a little burning is expected and ok). While tomatoes and garlic are roasting, large slice your onion. Dry roast the onion and jalapeños in a cast iron skillet if you have it (any skillet will do until onions are brown and fragrant.
Let the tomatoes cool, then remove the skins. Stem and remove seeds of your jalapeños (I usually leave a few seeds because we like it spicy).
Add everything to the blender - the onion, jalapeños, roasted garlic, tomatoes. I add the tomatoes one at a time while I'm peeling, and then drain off the water (using the blender lid to keep in the tomatoes) before adding the lime and salt. Chop on pulse mode in the blender, don't over chop. Add additional salt or lime juice to taste, and enjoy!
Flavorful Life http://flavorful.life/