Late summer, my in-laws have a bountiful blueberry harvest that they freeze and share with loved ones (lucky us) to help us get through the long winters. Even with our abundant supply, I had never found a recipe that could compete with my Mango Smoothie – until now. I've finally found the perfect blueberry smoothie. I mixed a pack of frozen acai berry because I had some on hand and acai is technically a technically a super fruit that adds some different nutrients and antioxidants, but it's just as good using only acai or only blueberries.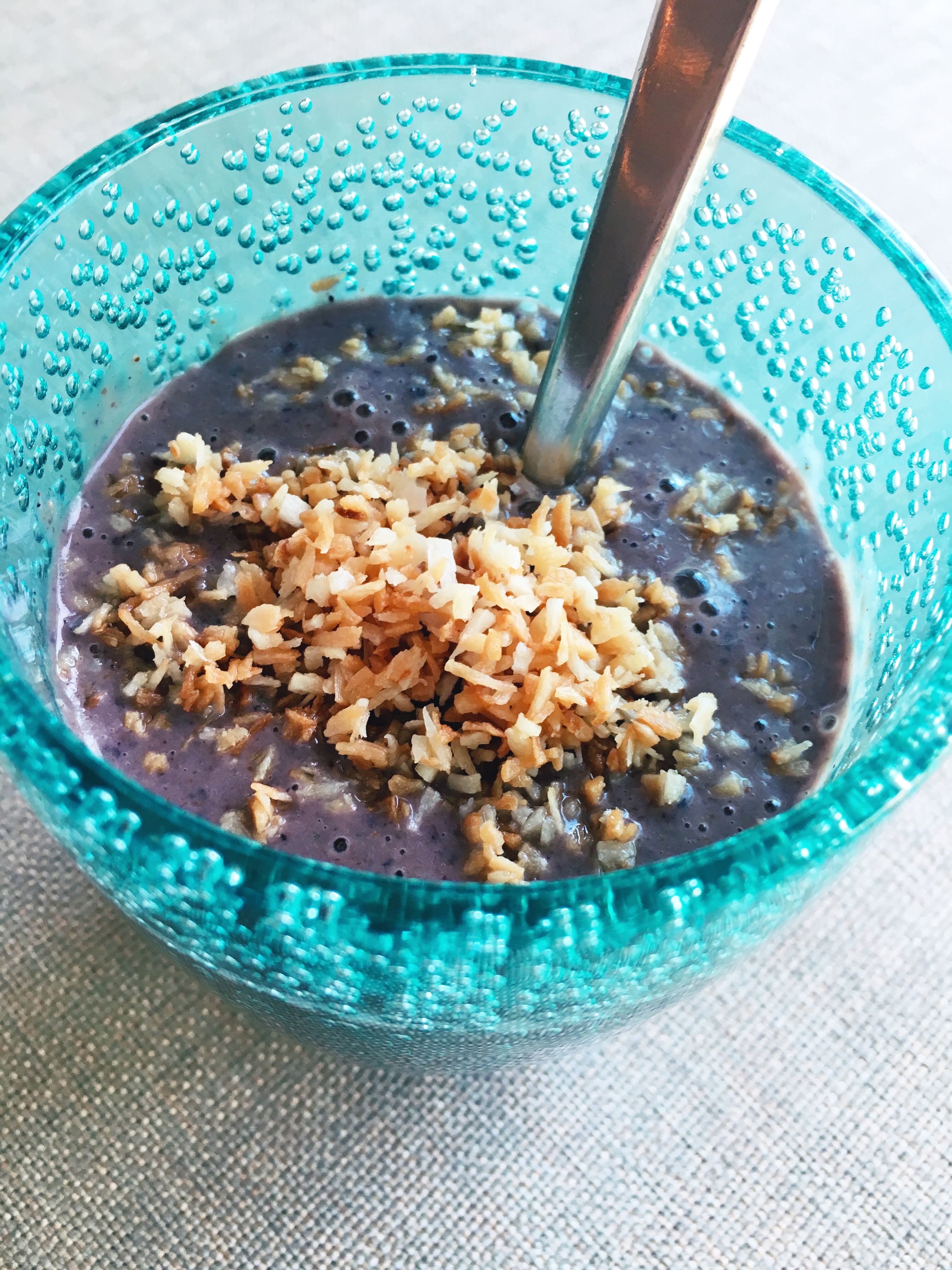 Acai Blueberry Smoothie
2016-04-24 09:38:45
Serves 2
Nutrition Facts
Amount Per Serving
* Percent Daily Values are based on a 2,000 calorie diet. Your Daily Values may be higher or lower depending on your calorie needs.
Ingredients
1 (3.5-ounce) pack frozen acai berry blend
4 ounces frozen blueberries (a large handful)
1 banana
1 medjool date, pitted
2 tablespoons almond butter
1/4 cup milk (I used unsweetened vanilla almond milk)
Handful of spinach (and/or hemp seeds, flax seed, etc)
Topping I used
1 teaspoon coconut oil
3 tablespoons unsweetened coconut flakes
Recommended Extras
Chia seeds
Granola
Dried fruit
Other toppings of your choice
Instructions
Run you acai pack under warm water for a few seconds, break into chunks and put in your blender. Add the frozen blueberries, almond butter, milk, pitted date, and spinach or hemp / flax seeds, if you are using. Blend until smooth.
Add coconut oil and coconut flakes to a skillet and toast until golden (watch closely as they will burn). You can serve this smoothie in a bowl topped with the recommended extras. Eat with a spoon and enjoy! Or, omit the extras and drink on the run like a traditional smoothie - both ways are equally delicious.
Notes
Buy the acai in freezer section at Whole Foods.
Buy the dates in bulk section at Whole Foods.
We've made this using skim cow's milk and it was just as good.
Adapted from It's All Easy - Gwyneth Paltrow with Thea Baumann
Adapted from It's All Easy - Gwyneth Paltrow with Thea Baumann
Flavorful Life http://flavorful.life/