I've been making this salad for years and it's one that I always look forward to eating. We have fun with it, adding things like broccoli, spinach, arugula or peas to bulk up the nutritional value.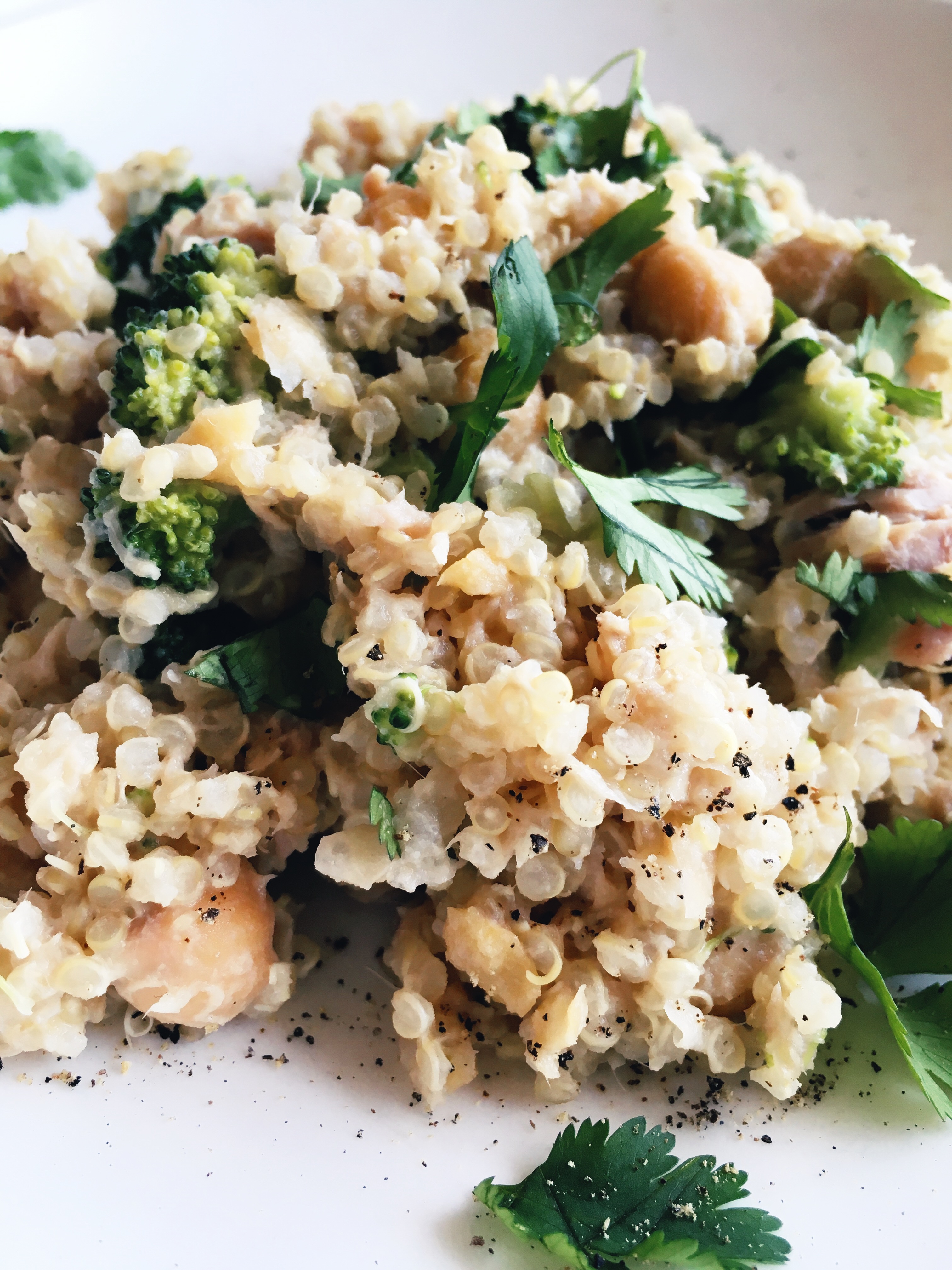 Creamy Lemon Quinoa Salad
2016-04-14 12:31:24
A deliciously creamy quinoa salad with tuna, tahini, chickpeas and lemon
Nutrition Facts
Amount Per Serving
* Percent Daily Values are based on a 2,000 calorie diet. Your Daily Values may be higher or lower depending on your calorie needs.
Ingredients
1 cup quinoa
2 cups water
1/2 teaspoon salt
1 can of chickpeas (garbanzo beans)
1 can of tuna, water drained
For the sauce
1/4 cup tahini
Zest and juice of one lemon
2 tablespoons olive oil
2 tablespoons water
1/4 teaspoon garlic powder
1/4 teaspoon onion powder
1/4 teaspoon of salt (more to taste)
Extras
Handful of spinach or arugula, chopped
1 head of broccoli, chopped
Garnish with 1/2 cup cilantro, chopped
Instructions
Add quinoa, water and 1/2 teaspoon of salt and bring to boil. Reduce heat, cover and cook until the water is absorbed and the quinoa opens up a bit. It's ok if you have a small amount of water left as that will make the sauce more creamy. Add the drained tuna and and any extras you may want steamed, like broccoli or spinach, stir and cover (you may need to add a tablespoon of water to create some steam for your veggies). Once your extras are slightly softened, add the tahini, water, juice of half the lemon, lemon zest, olive oil, garlic powder, onion powder and salt and stir until nice and creamy. Add remaining lemon and additional salt and pepper to taste. If your salad isn't as creamy as you'd like, add more water or olive oil. Remove from heat and stir in your cilantro, reserving some for a garnish if you'd like.
Notes
If you live near a Trader Joe's, a major timesaver is buying their pre-made Tahini Sauce. I literally combine a heaping 1/4 cup of their Tahini Sauce with 2 tablespoons of water. So good and easy.
Flavorful Life http://flavorful.life/