I've mentioned before that I do weight loss challenges to lose weight. Well, I've got a challenge wrapping up soon. I need to lose four pounds in two weeks. Totally doable right? Forgot to mention we are also going on vacation during those two week. I'm doomed! Or maybe not. We are rotating between camping and condo accommodations, so I'm planning to bring some (healthy) pre-made meals, stay really active and hopefully lose a couple of pounds WHILE ON VACATION. Wish me luck!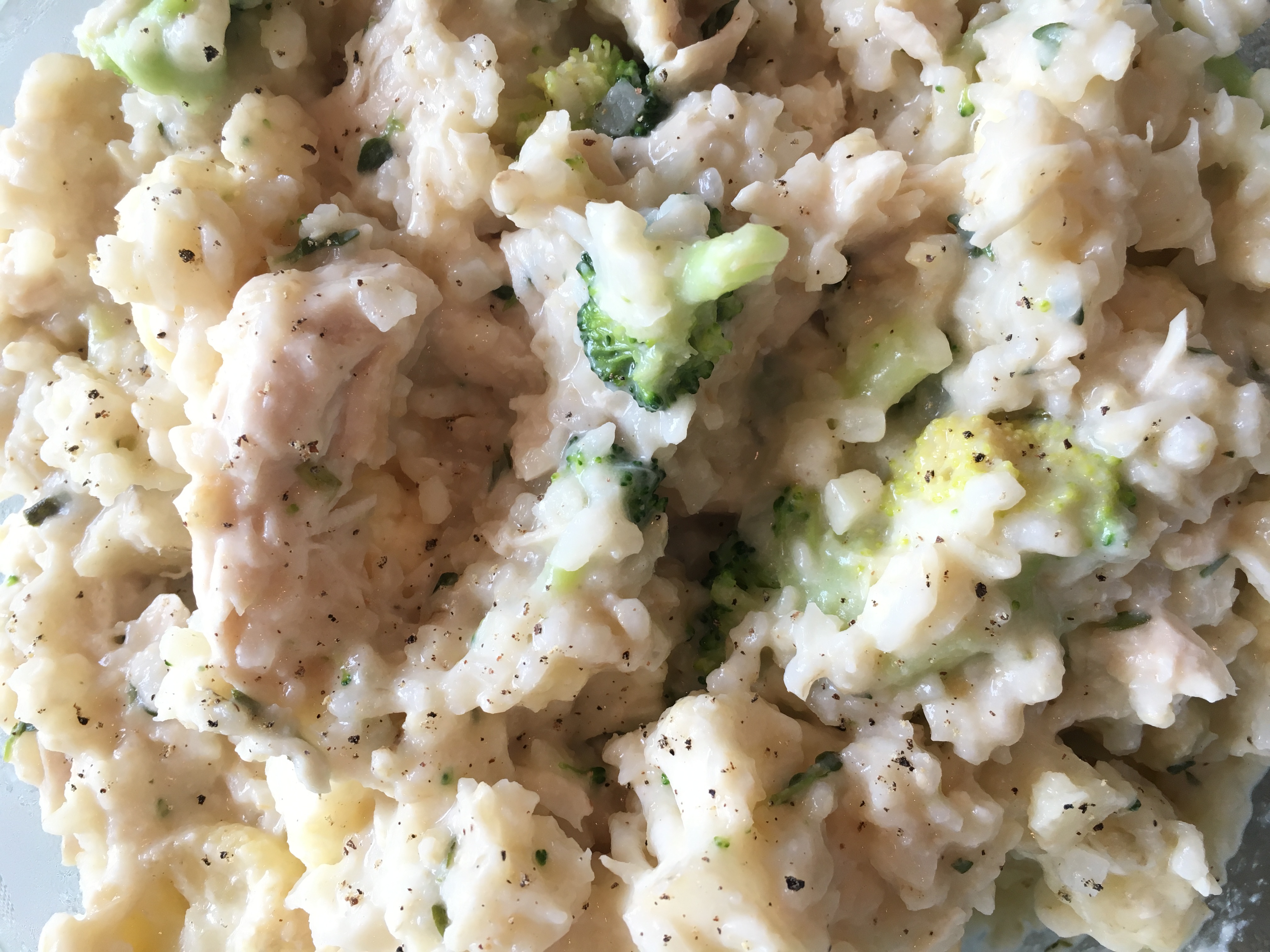 This is a delicious chicken and rice casserole that doesn't use cream of soups or sour cream. It's also EASY. I combined several steps that I didn't feel impacted the quality at all (i.e., cooking the chicken and béchamel sauce at the same time or using pre-made brown nice). Love a good, healthy and easy meal!
Healthy Chicken and Rice Casserole
2016-08-18 15:10:00
Nutrition Facts
Amount Per Serving
* Percent Daily Values are based on a 2,000 calorie diet. Your Daily Values may be higher or lower depending on your calorie needs.
Ingredients
8 boneless skinless chicken tenders (or 4 full-size boneless skinless chicken breasts)
2 tablespoons flour
1 tablespoon olive oil
1.5 cups milk
1/2 cup greek yogurt
Fresh thyme and rosemary - I used about 1 teaspoon of thyme and a half teaspoon of rosemary, use less if you are using dried
1 cup broccoli, chopped
1 cup cauliflower, chopped
10oz premade brown rice (I use Trader Joes Frozen Brown Rice)
1 cup cauliflower rice (I use Trader Joes Organic Riced Cauliflower)
1/2 teaspoon onion powder
1/4 teaspoon garlic powder
Salt and pepper, to taste
Instructions
Heat the olive oil in a large pan. Add the herbs then add the chicken and sprinkle with the flour and some salt. Add onion and garlic powder. Stir until the chicken is covered in the flour and white on each side. Add the milk and stir to break up and lumps. Add the yogurt. Once the sauce starts to thicken, add the broccoli and cauliflower. Cover and let steam for a couple minutes. Add the rice and cauliflower rice. Salt and pepper to taste.
Flavorful Life http://flavorful.life/