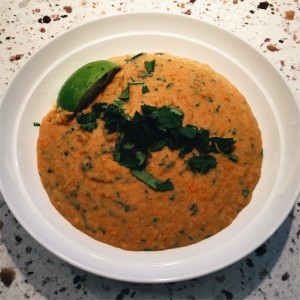 Curried Red Lentil Soup
2016-03-31 22:20:47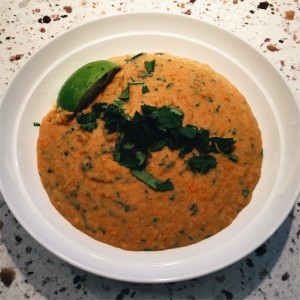 Nutrition Facts
Amount Per Serving
* Percent Daily Values are based on a 2,000 calorie diet. Your Daily Values may be higher or lower depending on your calorie needs.
Ingredients
1 tablespoons coconut oil
1 onion, diced
2 carrots
3 celery ribs
2 cloves garlic, peeled and finely minced
2 tablespoons fresh ginger, peeled and finely minced
1 t ground cumin
1 t ground coriander seed
1 teaspoon red curry paste, more or less to taste
1 14oz can of coconut milk
1 cup red lentils
4 cups chicken broth
salt, to taste (about 1/2 to 1 teaspoon)
Instructions
1. Add the coconut oil to soup pot over medium-high heat and add the onions, celery and carrots, allowing them to cook slowly until the onions are translucent and soft.
2. When the vegetables have softened, add the ginger and garlic. Cook until fragrant, then add the curry paste, cumin and coriander.
3. Reduce heat to medium and add the coconut milk, lentils and stock until simmer.
4. Lower heat and cook for 30 minutes, or until the lentils are tender. Add water or additional broth if needed.
5. Salt to taste. Use immersion blender for a nice creamy soup.
Notes
Garnish with cilantro and lime juice. Enjoy!
Flavorful Life http://flavorful.life/