Best grilled salmon I've ever had – hands down – comes curtesy of Gwyneth Paltrow's "It's All Easy." This is her version of salmon with chermoula, a Moroccan herb sauce traditionally served with grilled fish. She uses half of the fresh herb mixture as a marinade for the fish and the other half to make a divine yogurt sauce.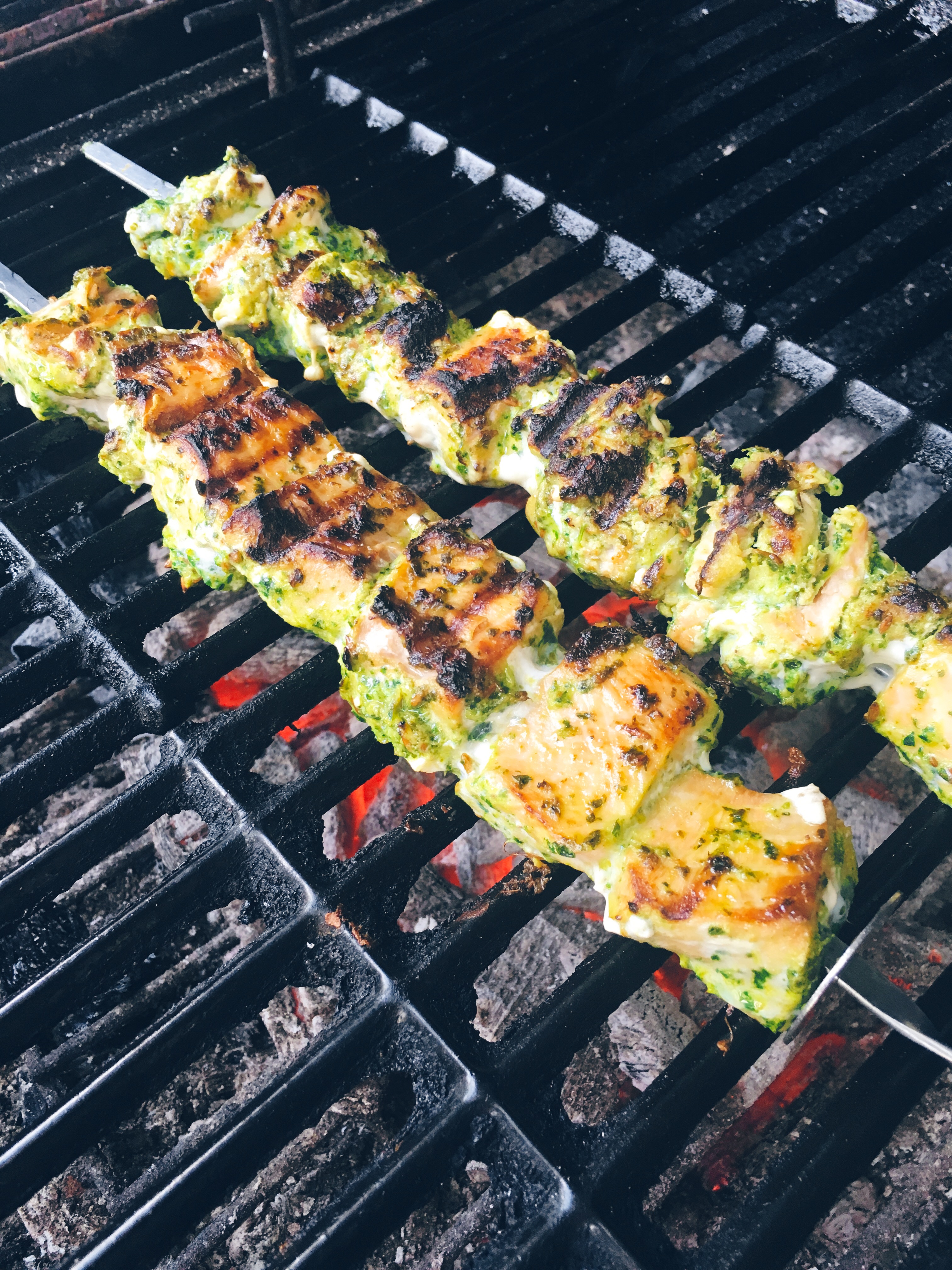 Salmon Skewers with Fresh Herbs
2016-05-09 15:13:07
Serves 4
Nutrition Facts
Amount Per Serving
* Percent Daily Values are based on a 2,000 calorie diet. Your Daily Values may be higher or lower depending on your calorie needs.
Ingredients
2 pounds salmon, center-cut, skinned and deboned
1 teaspoon cumin seeds, dry toasted until fragrant
1 cup fresh parsley, rough chopped
1 cup fresh cilantro, rough chopped
1 garlic clove, minced
Zest and juice of 1/2 lemon
A pinch of chili flakes
A pinch of salt
1/3 cup olive oil
3 tablespoons yogurt
Instructions
Preheat your grill.
Cut the salmon into 1-inch pieces and place in a bowl.
To make the herb marinade, add all the remaining ingredients except the yogurt to a blender and blend until smooth. Pour half of the herb mixture over the fish, add a pinch of salt, and toss to coat. Allow the fish to marinate for at least 10 minutes, or overnight.
Add the remaining herb mixture with the yogurt and stir to combine.
Add the salmon to the skewers. Grill for 5 minutes per side or until 145°F (don't overcook but do get them nicely browned).
Serve with the yogurt sauce.
Adapted from It's All Easy by Gwyneth Paltrow with Thea Baumann
Adapted from It's All Easy by Gwyneth Paltrow with Thea Baumann
Flavorful Life http://flavorful.life/