This sauce was great over sweet potato noodles, but could stand on it's own as a dipping sauce for chicken satay or a base for a nice pad thai. So good – over the sweet potato noodles my 4 year-old said it was as good as dessert!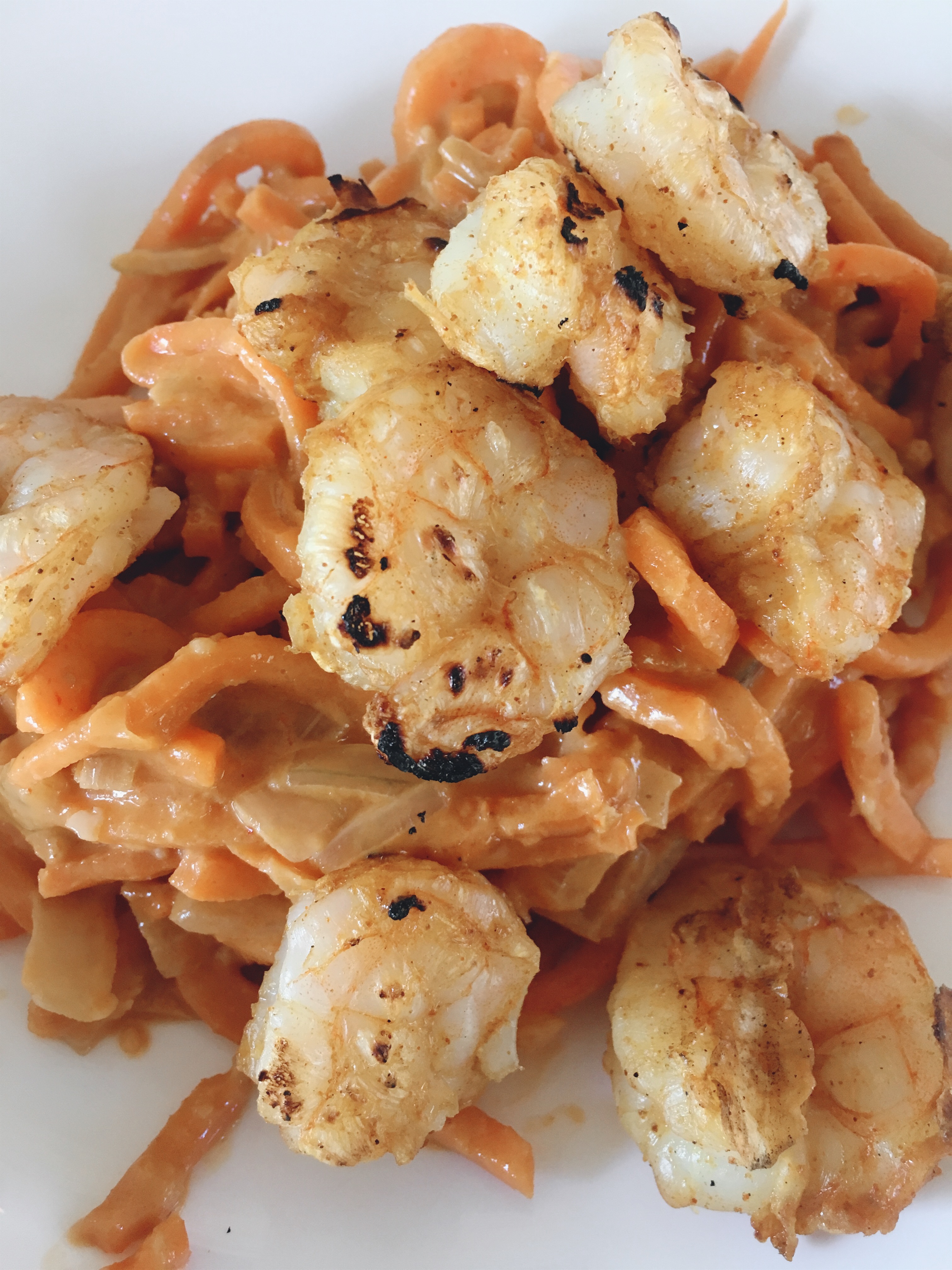 Shrimp over Sweet Potato Noodles with Peanut Curry Sauce
2016-05-07 22:25:30
Nutrition Facts
Amount Per Serving
* Percent Daily Values are based on a 2,000 calorie diet. Your Daily Values may be higher or lower depending on your calorie needs.
For the shrimp
1 pound of shrimp
2 tablespoons coconut oil
2 teaspoons of curry powder
Salt and pepper, to taste
For the sauce
1 tablespoon coconut oil
2 cloves garlic, minced
1/2 yellow onion, chopped
1 1/2 teaspoons fresh ginger, grated or minced
1 heaping tablespoon red curry paste
1/2 teaspoon ground cumin
1/4 teaspoon ground coriander
1 (14 ounce) can coconut cream (full fat, not coconut milk)
2 tablespoons creamy peanut butter
1 tablespoon low sodium soy sauce
1 teaspoon fish sauce
For the sweet potato noodles
2 large sweet potatoes
1 tablespoon olive oil
For the Garnish (optional, but awesome)
2 tablespoons of peanuts
2 cloves of garlic
Salt and pepper, to taste
Instructions
Step 1: Do your prep work. Spiralize your sweet potato noodles. Prepare the shrimp and preheat the grill. Toss shrimp with oil, curry powder, salt and pepper. Add to skewers to marinate while you prepare the rest of the meal.
Step 2: Prepare the sauce. Heat oil in a sauté pan over medium heat. Add garlic, onion and ginger and sauté until the onions start to soften, stirring occasionally. Add curry paste, cumin and coriander and stir until fragrant. Add coconut cream, peanut butter, soy sauce and fish sauce and stir to combine. Lower the heat and let the sauce simmer, stirring occasionally, until warm throughout. Keep warm.
Step 3: Heat olive oil in large sauté pan and add sweet potato noodles. Cook until al dente, about 7 minutes. Keep warm.
Step 5: Prepare your garnish, if using. Heat 1 teaspoon of olive oil over medium-high heat until hot. Add the minced garlic and peanuts; season with salt and pepper. Cook until lightly browned and fragrant, stirring occasionally - about 1-2 minutes. Transfer to a paper towel-lined plate.
Step 4: Grill your shrimp. Shrimp cooks quickly, 2-3 minutes per side should do it.
Combine your noodles and sauce, top with the shrimp and garnish - enjoy!
Notes
If you don't have a grill, sauté the shrimp using a skillet or grill pan - it would be equally as tasty!
Flavorful Life http://flavorful.life/