Sriracha Thai peanut sauce tossed with zoodles, chicken, snow peas and carrots is a sure way to spice up your lunchtime routine (or this would make a great dinner salad)!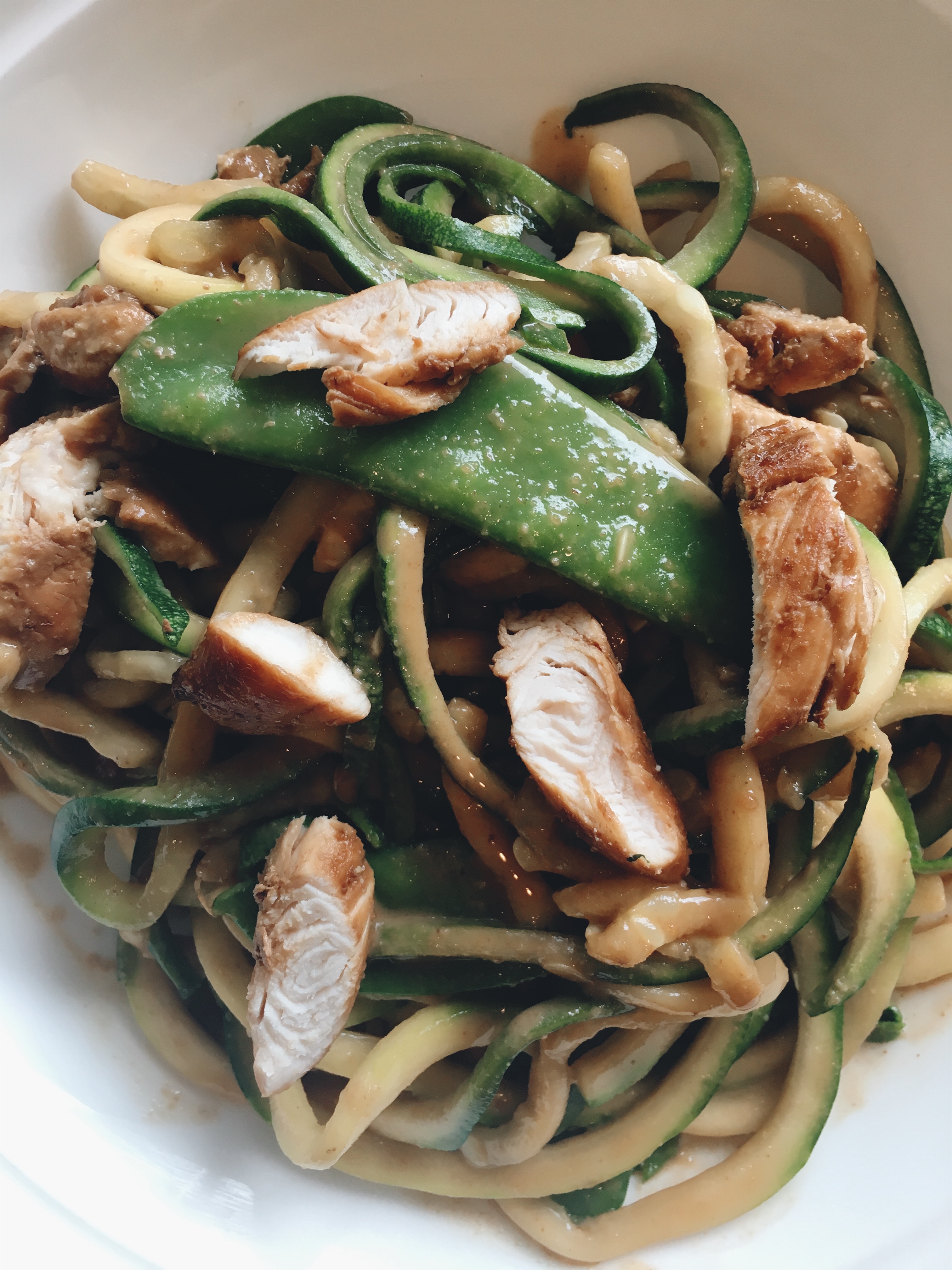 Spiralized Thai "Noodle" Salad
2016-07-09 21:28:20
Serves 2
Nutrition Facts
Amount Per Serving
* Percent Daily Values are based on a 2,000 calorie diet. Your Daily Values may be higher or lower depending on your calorie needs.
Ingredients
2 zucchini, spiralized
2 carrots, sliced thin
Handful of snow peas
1 large boneless skinless chicken breast, or 2-3 small tenders
1/4 cup creamy peanut butter
1 tablespoon low sodium soy sauce, plus a little extra for the chicken
1 tablespoon mirin (Japanese rice wine)
1 tablespoon water
Sriracha sauce, to taste
Instructions
Spiralize your zucchini. Toss your chicken with a splash of soy sauce in a bag. Whisk together the peanut butter, soy sauce, mirin and water until smooth - don't worry if it looks a little strange at first. Your sauce should be thick, as the moisture from the zucchini noodles will thin out the sauce. Preheat a large pan with 2 teaspoons of oil (sesame oil if you have it), add your chicken and cook until done. Move to cutting board, let rest and then slice. Add your carrots and another splash of oil, if needed, to the pan of chicken fond. Cook a few minutes, then add your snow peas and zucchini noodles. Toss together until the zucchini noodles are heated (do not overcook - this usually only takes 3-5 minutes). Add the sauce and top with sliced chicken.
Flavorful Life http://flavorful.life/