I decided to try to create a healthier version of my favorite burrito from Northstar Cafe in Columbus, Ohio. It turned out great!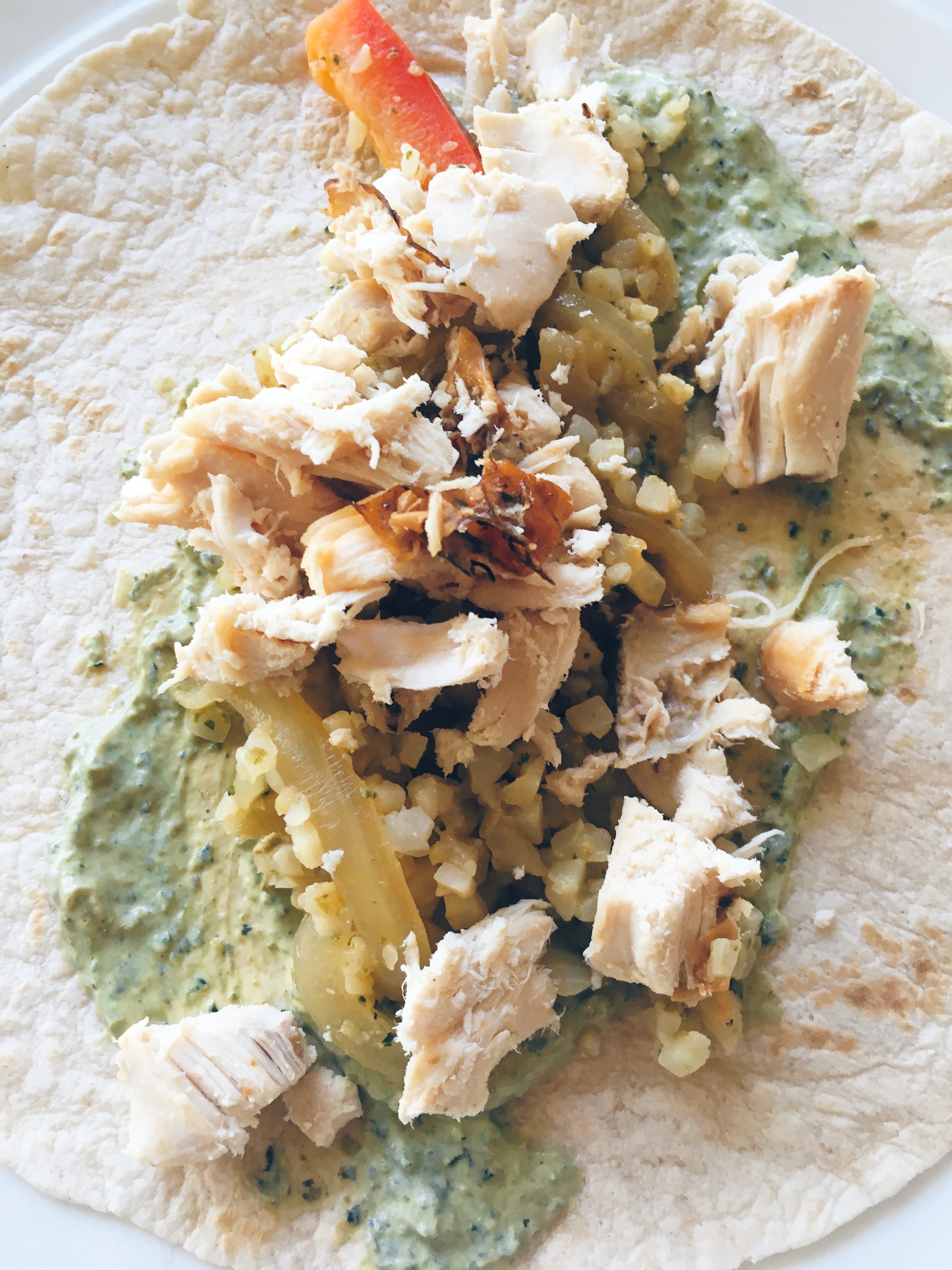 Sweet Basil Burrito
2016-07-16 22:58:02
Serves 6
Nutrition Facts
Amount Per Serving
* Percent Daily Values are based on a 2,000 calorie diet. Your Daily Values may be higher or lower depending on your calorie needs.
Ingredients
1 rotisserie chicken, shredded (I used store bought to save time)
1 red bell pepper, sliced thin
1 small sweet onion, sliced thin
1 bag of Trader Joe's riced cauliflower (or grate a head of cauliflower with your cheese grater)
1/3 cup plain yogurt (I used Greek 2%)
1/3 cup basil pesto (I make ahead and freeze in ice cube trays and this was about 3 cubes)
6 flour burrito-sized tortillas, I used La Tortilla Factory Low Carb, High Protein
Salt and pepper to taste
Instructions
Shred your rotisserie chicken. Combine the yogurt and pesto. Preheat 2 teaspoons olive oil in a large pan. Add your onion and salt and pepper to taste; cook over medium-low for 15 minutes or so to get the onions tender and sweet. I added a bit of butter when my skillet got dry (optional). Then add your riced cauliflower and red bell peppers and a tablespoon of your pesto-yogurt sauce. Salt and pepper to taste.
Preheat a pan to warm your tortilla. Spread the pesto-yogurt sauce on the tortilla. Add a spoonful of the vegetable mixture and top with the chicken. Fold like a burrito and enjoy!
Notes
This can be a good make ahead lunch if you keep all your ingredients separate and assemble before eating. Serve with chips and salsa if you really want it to be authentic Northstar!
Flavorful Life http://flavorful.life/